My second grade history teacher taught me to look out for 'bias' in everything. After all, our life experiences, upbringing, affiliations and political beliefs make it inherently difficult to remain objective. However, whilst you or I can discern the author's stance on a topic by reading an article, to truly understand a large corpus of information at scale it is necessary to run content sentiment analysis.
What is Sentiment Analysis?
Sentiment analysis is the use of Natural Language Processing (NLP) to extract and decode the levels of subjectivity within content. By scoring content from a range of +1 (positive) to -1 (negative) we can quickly analyse and compare a large subset of news articles, blog posts and other content over time. At Nano our contextual engine Contexta has the capability to not only understand the underlying meaning of content, but also breakdown the sentiment of a given article. Put simply, this enables us to understand the evolving intent landscape and topic sentiment over time.
In November our Insights team ran a number of queries to test the hypothesis that general topic sentiment can quickly flip and be at danger of exposing brands to undesirable content environments. One of the queries looked at content mentioning the American-based rapper Travis Scott, who was thrust into global spotlight following a crowd surge at his Astroworld concert that left 10 people dead.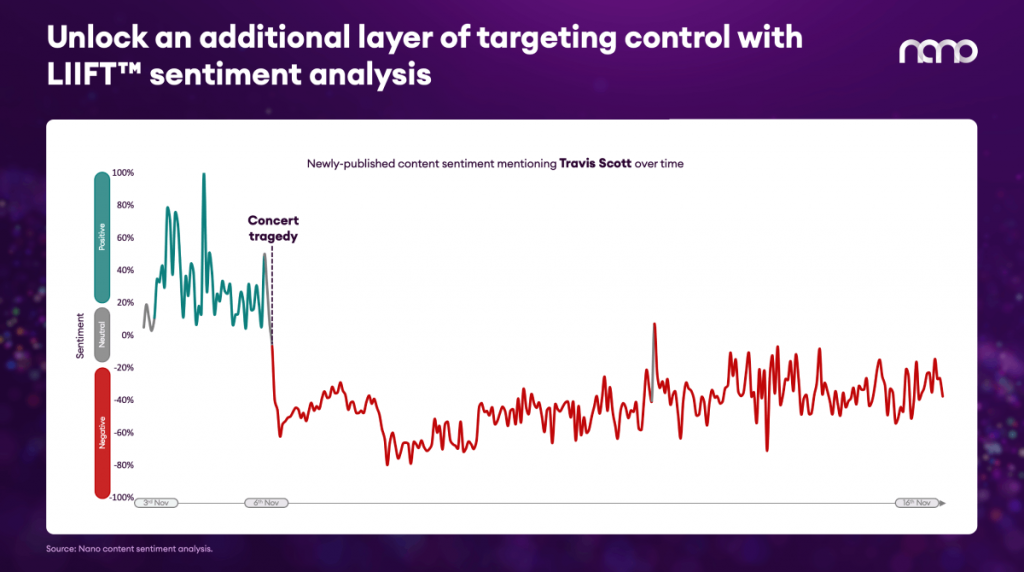 As hypothesised, newly-published content sentiment that mentioned Travis Scott was positive prior to the concert, yet this quickly turned overwhelmingly negative following a surge of negative news articles on the rapper following the incident.
Similarly after Will Smith's altercation with Chris Rock at The Oscars in March we saw neutral content around him quickly turn negative soon after.
How Can Sentiment Analysis Be Harnessed in Programmatic Targeting?
According to IAS research, 72% of consumers say that their perception of an online ad is impacted by the surrounding content of the page. By evaluating the content that an ad will appear within, the Nano LIIFT™ platform allows our partner brands and agencies to tactically layer sentiment targeting on top of the bespoke live-intent audiences.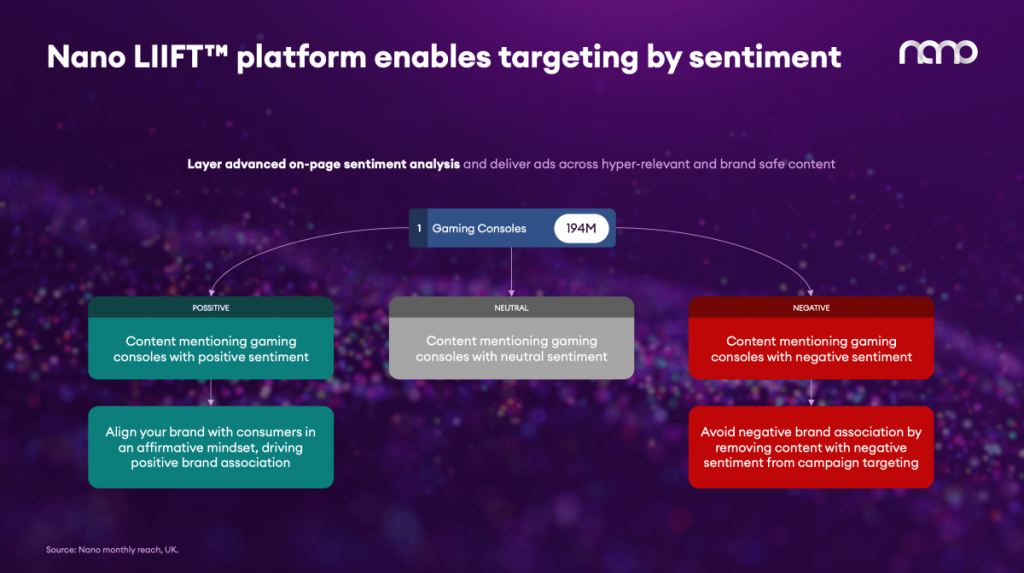 Rule-based sentiment targeting allows brands and agencies to:
Protect brand activity with positive and neutral sentiment rule overlays

Layer sentiment targeting and conquest consumers reading content that mentions competitors and competitor products with negative sentiment

Build positive brand association across broad topics by layering on positive and neutral sentiment targeting
Take your campaigns to the next level by learning more about the Nano LIIFT™ platform here.